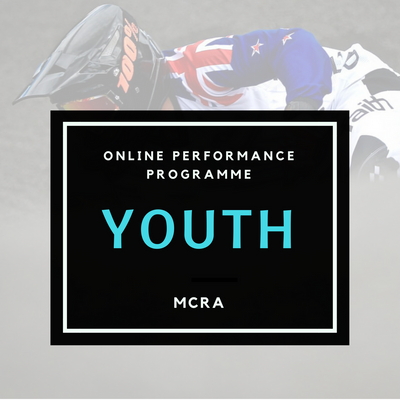 ONLINE PERFORMANCE PROGRAMME | YOUTH
MC RACE ACADEMY
$80.00
STRENGTH & CONDITIONING (MOVEMENT LITERACY - PRE GYM)
YOUTH PACKAGE | FOR AGES 11-15
CHOOSE 2 AREAS OF TRAINING IN THE BOXES (TRACK, STRENGTH & CONDITIONING/GYM, SPRINTS), AND THE FOCUS YOU WANT IN THIS AREA.
FOR THE 1 AREA YOU ARE NOT CHOOSING, PLEASE CLICK NOT THIS TIME IN THAT BOX.
FOR AGES 11-15... The very best online BMX training you will get your hands on!
Entitles you to have..
2x Performance areas of programming provided (one month programme in each).
Your main choice can be two of the three in Sprint, Strength & Conditioning or Track training.(e.g. - Track/Speed & Strength and Conditioning/Strength).
Access to a dropbox that provides you with strength & conditioning movement videos to ensure great technical execution - If 'strength & conditioning/gym' is selected.
Online Performance Programming enables you to guide your own training and gives you training options to kick start your racing in the right direction. These programmes are created by Elite International Coach and Ex Professional Rider - Matt Cameron.
Online Performance Programming enables you to choose what component you feel you require progression in.
INSTRUCTIONS:
Select your TWO main areas (Track, Sprint or Strength and Conditioning)
In the drop box, select the component you want to focus on within the main areas
In the one area you are not choosing to get a training programme in, please select NOT THIS TIME in the drop box.
Note:
Please ensure you read the 'Terms of Service' when you are purchasing this option as terms and a privacy policy is in place.
SKU: 10000-2